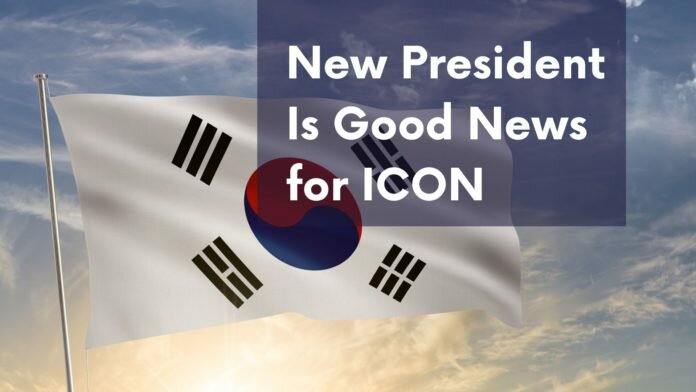 Yoon Suk-yeol took office as South Korea's next president on Tuesday.
And that could mean big things for Korea's crypto scene. Including ICON.
Last week, Yoon's transition team unveiled the outlines of his plan to vitalize cryptocurrency.
At the heart of his plan is enacting a so-called "basic law on digital assets."
This law would allow the virtual asset market to grow based on trust.
It would include measures to protect consumers and promote safe transactions by regulating the issuing and listing of digital assets like NFTs and cryptocurrency, as well as other major actions.
The plan is to promote safe investment conditions with the goal of building digital asset infrastructure and a regulation regime.
In particular, the administration plans to gradually permit local ICOs, beginning with adopting methods to issue virtual assets with built-in investor protections.
The government plans to add a bit of flexibility to the regulatory regime by adopting to the local market measures and suggestions from international organizations and nations such as the United States when appropriate.
Yoon's position on ICOs stands in sharp contrast to that of the previous administration of Moon Jae-in, who banned ICOs out of concern for overheated crypto speculation and investor harm.
The Yoon administration plans to build a regulatory regime for ICOs by dividing virtual assets into "security-type coins" for investment purposes "non-security-type coins" for payments and consumption.
The issuing of security-type coins should be in accordance with the regulatory regime of the Capital Markets Act, which includes investment protection mechanisms. The administration plans to make use of financial regulation sandboxes when needed, too.
With non-security-type coins, the administration plans to craft a regulatory regime regarding issuance, listings and transactions through discussions of bills currently pending in the National Assembly.
The moves will protect investors by judicially confiscating all ill-begotten gains through unfair transactions such as price manipulation, and protect consumers by crafting systems to protect against hacking and system failures.
Though Yoon pledged during the campaign to create a dedicated agency to promote digital industries, it appears this will be left up to the Financial Services Commission.
Needless to say, this is good for Korea's crypto industry.
Case in point: ICON.
Korean news site NEWS 1 notes that as BTC and other major cryptocurrencies proverbially crap the bed, ICX is doing relatively well.
Yesterday morning, it was actually up 7% against the KRW on major Korean exchange UPbit, and even as I write this it's up 1.27% against the KRW.
At CoinMarketCap, it's down 1.30% against the USD, but up 4.51% against BTC and 1.81% against ETH.
NEWS 1 notes that in some quarters, ICX's strength over the last day is linked to the Claws NFT mint.
Congratulations, Claws — you got a mention in the Korean media.
However, NEWS 1 notes that the ICX price on Upbit was over 3% higher than the price on overseas exchanges, suggesting the strong price action is due to ICON's reputation as "President Yoon's coin."
This is mostly because last December, Yoon minted an NFT on ICON-based marketplace Craft.